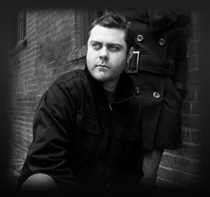 AARON BALES

is a Toronto based composer for Film/Video Games/Television. Aaron has worked with acclaimed composer Donald Quan, marketing company MacLaren MacCann, Cadillac, Juno winning producer Pat Riccio, and lending his guitar playing to Sarah Brightman. Some of Aaron's scores have been heard at the Calgary International Film Festival and the Toronto Digital Image Festival.

A student of rock music during his early teens, Aaron eventually progressed to classical study in high school, where he received accolades as a performer in many Ontario music festivals as a classical guitarist. His post-secondary studies took him to Humber College, a prestigious environment focused on jazz and fusion styles. Aaron majored in arranging and performance and graduated with honours.
Aaron proceeded to private study in composition at The Royal Conservatory of Music in Toronto, which contributes to his diversity. This rich educational background makes him a very versatile musician. In addition, his wealth of collaborative experience (performing in numerous bands, ensembles and recording projects) gives Aaron adept musical flexibility and a thorough appreciation for co-operative musical efforts.